In a previous message we were discussing the fact that referrals are one of the best sources of new business for attorneys.  We discussed the old and new models of the referral process, and concluded with the first step a potential referral takes toward your practice: a "Branded" search.  A branded search most often resembles this pattern:
(Attorney First & Last Name/Firm Name) (Attorney / Lawyer) (City or Local Nickname)
John Smith Lawyer Columbus Ohio
Barbera Vincent Attorney Jones Day San Diego
What results do you get with branded searches based upon your name?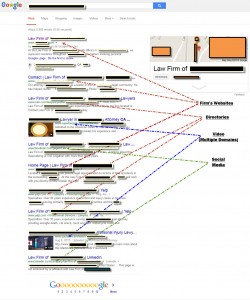 The information that follows at that point is mission critical for the conversion of referrals.  The first result should be your own website, and preferably the link to your personal profile within that site (so that the visitor clicks once and comes directly to your profile).  Your profile should be fairly substantive, and should answer the two primary questions a referral is considering:
Why Should I Hire You?
Can I Connect With You on a Human Level?
The first question they will ask consciously, and often out loud and in person.  The second question almost always goes unasked externally, but can be more important than the first.  The public's perception of attorneys has been degraded over the years by consistent messaging in the national media and political arenas.  The law is an intimate business, and in many cases the potential client will need to share sensitive and personal information.  They are searching for an attorney they will feel comfortable working with, while sharing the personal details relating to their legal issue.  They are also looking for results.  Type A clients are usually looking for Type A lawyers.  The first two paragraphs of your bio should answer Question #1.  Provide background about your awards, experience, certifications and other recognition that separates you from the field and marks your expertise in a given niche.  The third paragraph should start with something like "When I'm not practicing the law, I enjoy…" – be human, offer a few activities that most people can relate to such as travel, reading, cooking, "chasing my kids around the soccer fields of …", spending time with my family.  You get the idea.
We had a client who called excitedly after  retaining a wrongful death client who was the out-of-state aunt of a doctor who was killed along with his wife and two children in an accident involving a commercial truck because the aunt noticed in our client's bio that he was a private pilot.  "My nephew was a private pilot too, and that means you're…";  She then went on to assign various personality traits to that attorney based on personality traits of her lost nephew, the Doctor.  Connection.  Great case, huge settlement.  You will lock in more referrals if you can connect on a human level.
Expand your influence on the rest of the first page for your own branded searches.  When they put in your name they want to see a lot of information from a variety of different sources.  Each listing should provide consistent and additional details to answer questions #1 and #2.  We help our clients to claim and carefully control their message and dominate their own branded search via:
Major Legal and Consumer Directories
Blogs
Video / You Tube (One of the most powerful conversion tools on-site and off-site)
Social Media
Understand the anatomy of the referral process.  Invest the time or work with an experienced consultant or partner to build out your online footprint, and establish a strong branded search strategy.  This will pay off time and time again, while attracting the types of clients that you enjoy serving, and who pay their bill.  Make it rain.  "No Rain, No Gain!"